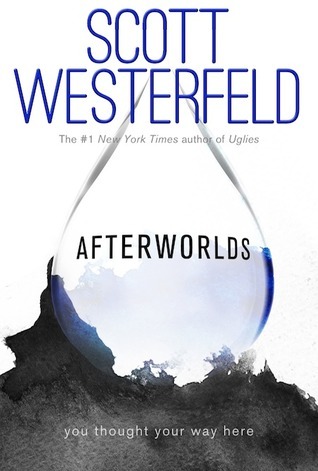 Afterworlds by Scott Westerfeld. Source: Library. Format: Hardcover, 599 pages, Simon Pulse, Simon & Schuster Children's Publishing Division, 2014.
Afterworlds is actually two books in one. The chapters alternate between Darcy Patel's life as a signed author during her first year living in New York City and the chapters of her novel that she is in the process of editing. Summarized like that, it might sound a bit confusing, but once you start reading, it's an great dual-story that makes so much sense and is quite fascinating. When books have multiple points of view, there tends to be one arc that is stronger than the other in voice or plot. Darcy and her "protag" Lizzie's chapters had equal amounts of good, and I was never tempted (okay, except maybe once or twice) to skip a chapter in order to stay with the character's story I was enjoying more.
The story within the story is that of Lizzie, who survives a terrorist attack, wills herself into the Afterworld to avoid dying in reality, and who can then see ghosts. The Afterworlds part of Afterworlds is intriguing, a really dark paranormal, and focuses on Lizzie's dedication to free her new-found ghost friend from her, the ghost's, terrible past. I didn't love Lizzie. She was all right, but her obsession for revenge was a bit off-putting to me. And then the romance portion of the story was eh, to be honest. It was insta-love, and Lizzie's romantic interest, modeled on a death god from Hindu religion, was very flat. He was a generic hot guy, so sensitive and protective. I really didn't buy their relationship at all. The end of Lizzie's story was kind of a mess. Things got crazy and came to an abrupt halt. I wasn't very satisfied with the ending, and I still didn't really connect with Lizzie.
Darcy's story was actually pretty cool, for the most part. But it was unrealistic, in my opinion. Upon getting a contract with a publisher (worth, what is it, 100k? Some giant book deal based on a first draft she wrote in 30 days) she moves to New York City by herself. She gets a fabulous apartment in Chinatown that is more expensive than her planned budget allowed. She gets with the "in" crowd of bestselling authors the very first day she arrives in the city. She befriends another debut author ("sister debs!") named Imogen Grey and the two become an awesome couple–though there's certainly some drama when secrets and trust become an issue. Oh, yes, Darcy is a lesbian, and is of Indian heritage. Neither is a focus of the book, but I find it's always refreshing to read about a character who isn't white. It's also great to have some more LGBT books out there. But back to Darcy's story… It was fun, it was funny. It dragged on at certain points but was a solid story by its own.
In summary, Afterworlds is a unique experience with two strong arcs. The protagonists of each have their flaws but in the end are both strong young women who make mistakes but learn from them. I liked the cast of supporting characters the best, though–they were far more interesting than Darcy and Lizzie combined. I do think you should check out this two-in-one novel by Scott Westerfeld. It's different, it's funny, it's engaging. Plus, that cover. (So beautiful!) And the fact that you could use this book as a weapon. It's a massive book that goes by a lot fast than you'd think.