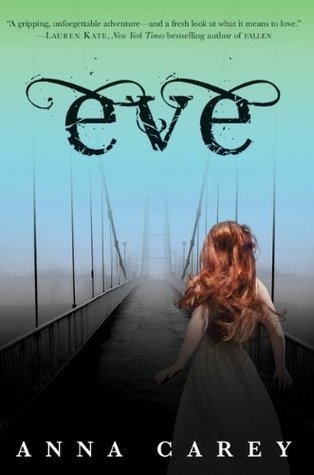 Eve by Anna Carey, Book #1 in The Eve Trilogy. Source: Library. Format: Hardcover, 318 pages, Harper, HarperCollinsPublishers, 2011.
Upon reading the blurb, Eve sounded like a typical Young Adult dystopia novel, like a story I've read a million times before. I walked into this book figuring it'd be a fast enough read and I hadn't read any dystopia lately so I might as well. Actually, Eve really surprised me. I ended up loving it. Yes, it does have a lot of similarities to other dystopian books, but I liked the main characters, Eve, Caleb, and Arden, and thought that it was well written and well paced. After finishing Eve I immediately groaned and went, "I need to read Once NOW." Because that ending was just unfair.
The premise is that a plague wiped out 98% of the world's population. In an effort to rebuild humanity, girls were put in Schools were they learn everything that will help them become the next smart, forward-thinking generation. Eve is just about to graduate when another girl in her class, Arden, tells her the truth of what actually happens to them after they graduate. Arden escapes into the wilderness and, after seeing the truth for herself, Eve does, too. Without spoilers, I will say that the truth is pretty disturbing, and I was very glad that Eve and Arden got the heck out of there in the nick of time. Even so, Eve's being hunted down by the King's soldiers. The King has a special plan for Eve… Yeah, creepy.
Eve is a survival story with a very adorable romance between Eve and a boy named Caleb, and a very great friendship built between Eve and Arden. The book is fast paced and has some truly horrific scenes. The world building lacked a bit, but not so much that I got distracted by how vague some things were. Eve, sheltered and lied to her entire life, makes some dumb choices, but you understand why she made them and can sympathize. But, of course, you still berate her because honestly that was a really stupid thing to do, Eve. And the ending… that was rough. Now I need Once so my heart can get put back together.
All in all, Eve exceeded my expectations. I've seen a lot of meh to negative reviews of it, though (haven't read them all because, why do that to myself when I am writing a positive review?). But the fact that there are a lot of different ideas on this book is a good (ish?) thing: it's affects people differently. I didn't think I'd be very impressed by Eve and yet I was. I think it's worth a go just to see if it's your kind of thing.