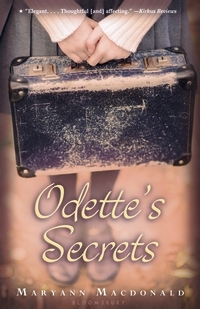 Odette's Secrets by Maryann Macdonald. Source: Library. Format: Hardcover, 212 pages, Bloomsbury Children's Books, February 2013.
Odette's Secrets is a fictional book about the very real Odette Meyers. Written in free verse poetry, Odette relays the years she spent in hiding during the Nazi Occupation of France. She is shipped off to the countryside and poses as a Christian, changing her identity so that she won't be taken to a concentration camp. It is her struggle to remain silent about being Jewish while also understanding what's happening around her and wanting to be accepted by others.
Free verse novels are an interesting thing. Often they are a breeze to read because they appear to be so much shorter in length. They can also be absolutely beautiful when writers really go for beautiful imagery, perfect word choices, and powerful sentences. Telling a whole story through poems is not an easy task, and it's not simply writing a story and pressing ENTER at random places. Sadly, the poems in Odette's Secrets at times felt like just that–like author Maryann Macdonald wrote out a scene and then broke it up with the ENTER button. Not all of the poems were like this, but the ones that were really didn't have anything meaningful about each individual line–my eyes quickly jumped to the next line and I read on without pausing because the words were all connected without any intention. Free verse doesn't necessarily make a book better or more interesting.
That's not to say the book isn't good. It is, it just failed to fully utilize the free verse poetry. However, I've read lots of World War II and Holocaust novels. This one didn't strike me as particularly memorable in the long run. As a Middle Grade book, it does a fine job at making Odette sympathetic and throwing in truths about the historic time period, but as someone who wants and enjoys very deep, well thought-out stories, I was mildly disappointed.