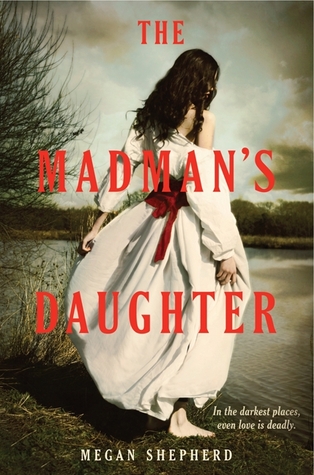 The Madman's Daughter by Megan Shepherd, Book #1 in The Madman's Daughter trilogy. Source: Library. Format: Hardcover, 420 pages, Balzer + Bray, HarperCollinsPublishers, 2013.
The Madman's Daughter is fabulous retelling of the Gothic novel The Island of Dr. Moreau by H. G. Wells. I haven't read The Island of Dr. Moreau, but I know of the story's synopsis. Megan Shepherd has done a wonderful job of spinning the classic story into something new and exciting for Young Adult literature. The book was dark and disturbing, mysterious and intriguing. It took me about a third of the book to get really interested, and by then I didn't want to put it down.
Juliet Moreau is the book's protagonist, the daughter of Henri Moreau, a brilliant doctor who was outcast from society when it was discovered he was immorally experimenting on animals. Dr. Moreau faked his death to escape to an isolated island to continue his research in private, and this is where the majority of the book takes place. Juliet convinces her father's assistant, Montgomery, a young man she's had a crush on since they were children, to take her to the island. Along the way, they save another young man, Edward, at sea, and take him to the island with them–where they are met at the dock by the doctor himself.
Dr. Henri Moreau is definitely mad.
I won't talk about the plot anymore, just in case you haven't read The Island of Dr. Moreau or don't know its story. In summary, The Madman's Daughter is a chilling historical novel with seemingly science-fiction elements. The characters are all very complex, though none are particularly likeable (at least to me). Juliet was a bit dense at times, though very smart at others. I wasn't a huge Montgomery fan. I smelled at the very beginning that Edward wasn't what he seemed. Oh, yeah, and there's a love triangle that honestly wasn't very enthralling. All in all, this book is extremely entertaining and hair-raising, though there are some things I didn't love about it. Should you read it? Most definitely. I am intrigued to read the sequel, Her Dark Curiosity, which is a retelling of The Strange Case of Dr. Jekyll and Mr. Hyde. I love retellings. And historical fiction. Mash the two together and I'm a happy camper.