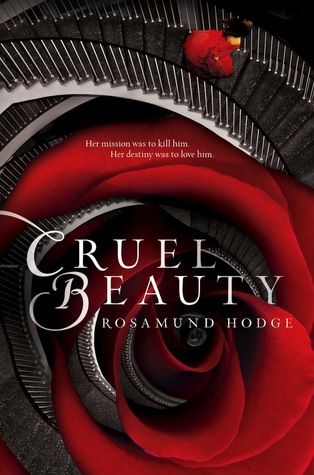 Cruel Beauty by Rosamund Hodge. Source: Library. Format: Hardcover, 342 pages, Balzer + Bray, HarperCollinsPublishers, 2014.
Cruel Beauty is a dark, romantic, complex novel that retells the classic Beauty and the Beast and that mixes in mythology and magic. After the first chapter I immediately knew I'd love this book. While there were a few aspects that were confusing or that could have had better explanations, I barely minded. I read this book in one day, in two sittings. Even though almost the entire story takes place in the labyrinthine castle, it moves at a quick pace. And can we just admire that gorgeous cover, with the spiral staircase that looks like a rose?!
Nyx's father made a bargain with the Gentle Lord: grant his wife two daughters, and he'd give up one sister to the Lord as his wife. Nyx is the unfortunate sister; Astraia is the one who never has to worry about a life married to a demon. However, Nyx has a plan: she is going to destroy the Gentle Lord who controls her home and has controlled it for the last 900 years. Nyx is going to save Arcadia by betraying her monster of a husband, even if it comes at the cost of her life. I really liked Nyx. She was stubborn, ferocious, broken, bitter, sympathetic, vulnerable… Her life has never been hers alone, yet she still loves her family (well, she loves her sister; daddy's still a jerk) and can manage to forgive them (somewhat…). She never stops fighting for what she currently believes in.
Well. The Gentle Lord, the demon, the man who imprisoned Arcadia–he's a hottie. And Nyx finds herself falling in love him. (Ahem, as did I.) Ignifex, he is called, though he gives her the opportunity to guess his name after dinner every evening. If she guesses his true name correctly, she can go free; if she guesses wrong, she dies. Ignifex also has a shadow–his own shadow, called Shade, who helps Nyx uncover the secrets behind the strange castle she explores day after day and of the curse over her homeland. I did feel like the world building of Arcadia was lacking, however. And, while I think some readers loved Ignifex's castle, I wasn't very interested in it. Except for the library. Because I love places with multitudes of books.
Cruel Beauty starts out like an expected Beauty and the Beast retelling. You can see all the similarities and it's quite comforting, because, hey, we know how it's going to go, right? I won't give anything away, but about halfway through, maybe a little farther in, the book became its own story. And it confused the heck out of me, especially toward the end. Even if it was pretty spectacular. Like, in that "I don't 100% understand what's going on but I know it's amazing and epic" kind of way.
All in all, I devoured this book. It was so different and so unique. I was sold from the moment I heard it was a fairy tale retelling (because I adore retellings), but then Rosamund Hodge's writing and characters just swept me away and into their world and I really wish this book could have gone on for longer.