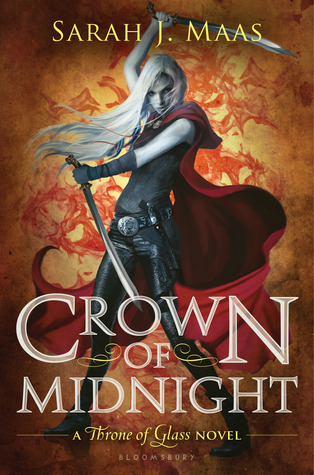 Crown of Midnight by Sarah J. Maas, Book #2 in the Throne of Glass series. Read my review of Book #1 Throne of Glass here. Source: library. Format: Hardcover, 418 pages, Bloomsbury, 2013.
The sequel to Sarah J. Maas's high fantasy novel Throne of Glass is Crown of Midnight, which expands upon the characters, the world, and the plot so much more and in such a great, satisfying way. Celaena Sardothien is one bad-ass girl, now the King's Champion, aka his assassin. Captain of the Guard Chaol Westfall is just to die for and it was heartbreaking to see his and Celaena's relationship shatter monstrously. The plot of Crown of Midnight deals more with magic and the long-lost Fae, and introduces witches, portals, more secrets, and people who I knew from the get-go Celaena shouldn't have trusted. I can't talk that much about the plot without maybe spoiling Throne of Glass, but Crown of Midnight was thrilling and aslghsd;lgha;lkdhg;a I want to read Heir of Fire, like, right this moment.
While I did love this action-packed book, I had huge problems with Celaena. She's so predictably unpredictable. Her rage is honestly scary–when she goes into full-on angry attack mode do not mess with her because will cut you down, even if you were her best friend/lover a minute ago. She makes rash decisions (if you know me, I absolutely hate it when characters make stupid choices) and trusts people who aren't her close friends (because, hey, she can't even trust her friends, either, as she finds out). For the world's most notorious assassin I would think Celaena would be smarter. Guess not. She gets caught on missions and narrowly escapes. She does a messy job of killing people sometimes. Oh, and that twist about what her true identity is was not surprising at all. I love how bad-ass and independent and strong and layered Celaena is, but her flaws really stuck out to me. She's a memorable protagonist but I can't love her. Yet. Perhaps she grows even more in the next book, Heir of Fire.
In summary, I devoured Crown of Midnight. It improves so much upon Throne of Glass, which I also really enjoyed, but which was definitely the setup book to the series. All the different plot threads going on in Book #2 are wonderfully intriguing. I am still Team Chaol because he is just perfect. I like where Dorian's story line is going now. The King of Adarlan, Dorian's father, is just despicable. Mort the talking doorknocker was hilarious and added some much-needed humor to this dark, dark, dark fantasy world. I'm very excited for the next book because it means Celaena will finally be in a different setting than the last two books. And. There. Will. Be. Dragons. Or wyverns, as they're called in this book. The wyverns don't make an appearance in Crown of Midnight, though they are mentioned. And you guys know how much I totally love dragons. I think I'll still add the tag "dragons" because they were mentioned, and that counts, right? All in all, Crown of Midnight was an amazing read, despite my dislike of Celaena at times. This series is totally worth diving into (even if the book titles are a bit vague) and I need to go geek out about the wyverns/dragons some more, but maybe outside this review.