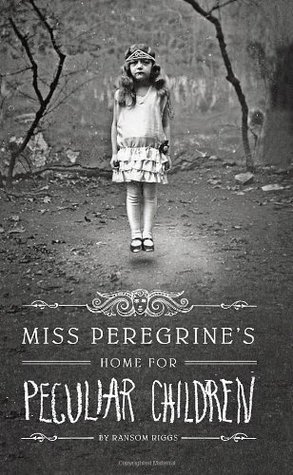 Miss Peregrine's Home for Peculiar Children by Ransom Riggs. Miss Peregrine's Peculiar Children, #1.
My copy: Quirk Books, June 2011. Hardcover, 348 pages.
Source: Library.
Synopsis:
A mysterious island. An abandoned orphanage. A strange collection of curious photographs.
A horrific family tragedy sets sixteen-year-old Jacob journeying to a remote island off the coast of Wales, where he discovers the crumbling ruins of Miss Peregrine's Home for Peculiar Children. As Jacob explores its abandoned bedrooms and hallways, it becomes clear that the children were more than just peculiar. They may have been dangerous. They may have been quarantined on a deserted island for good reason. And somehow—impossible though it seems—they may still be alive.
A spine-tingling fantasy illustrated with haunting vintage photography, Miss Peregrine's Home for Peculiar Children will delight adults, teens, and anyone who relishes an adventure in the shadows.
---
Miss Peregrine's Home for Peculiar Children follows the story of Jacob Portman. His grandfather, Abraham, used to tell Jacob stories of the strange people he knew at the orphanage–Miss Peregrine's Home for Peculiar Children–he lived at during his adolescence. Stories of people who were invisible, who could levitate, and who could turn into animals. Abe even had photographs of these alleged freaks, which Jacob found very hard to believe as he got older. Jacob grew up and dismissed these as stories his grandfather made up as a way of coping with World War II and escaping the Holocaust. However, Jacob's world is turned upside-down when he sees a monster from his grandfather's stories. Eventually, Jacob and his father go to Wales to visit the orphanage and to uncover the secrets his grandfather had kept almost his whole life. Miss Peregrine and some of the Peculiar Children might still be alive.
The intriguing plot and gorgeous writing were what hooked me from the very first page. Plus, the vintage photographs scattered throughout the book are really quite disturbing, especially with the fictional stories author Ransom Riggs attached to each and every one. There were a few instances when I had to cover up a picture with my hand as I read the adjacent page. I have a strong stomach when it comes to gore, but there's something about creepy eyes and creepy environments that get to me.
I was not expecting this to be a time travel adventure. I thought it was going to be told in two stories, one with Jacob in the present, and one with Abe in the past. I thought we'd see Jacob learning about his grandfather's life and see what his grandfather went through at Miss Peregrine's Home back in the day. But, no, we had time loops. Which I actually liked very much once the surprise wore off.
I liked Jacob, the narrator of this amazing adventure. He started off actually kind of a jerk, like a person I wouldn't want to know based on a first impression, but when events occurred and he began thinking about things differently and taking risks, I really liked him. Yes, he made some stupid decisions–like running through a bog all alone knowing perfectly well he shouldn't. (Characters making stupid, illogical choices is a major peeve of mine.) But I liked him and thought he did a good job of coping with the bizarre circumstances he faced. I did wonder a few times, though, if the story was all in his head, if nothing was real except to Jacob. I questioned his sanity, like other characters did, but after a while it became apparent that it was not that sort of psychological story.
The only thing I disliked about this book was the romance between Jacob and a kick-ass girl named Emma Bloom. It felt completely unnecessary–and almost instalove, as well as almost forced. I would have been fine with romantic undertones that would slowly build into a relationship in the sequels, but I really think the book would be the exact same if Jacob and Emma had just been friends. All the kissing pushes this story into the YA genre when, in fact, I think readers of all ages could (correction: can) enjoy it. That being said, the romance is hardly the focus and is very minor compared to most Young Adult novels out there. And, as I said at the beginning of this paragraph–this was the only thing I disliked about the book.
Ransom Riggs is a wonderful writer. His descriptions are liquid, his vocabulary perfect for the mood of the story. (One of the most memorable scenes for me was when Jacob was trying to open a trunk with any means he could. It was written so well, detailing Jacob's struggle in a desperate, humorous, but still very dark and serious, way.) Overall I adored Miss Peregrine's Home for Peculiar Children–which, if I'm being quite honest, is another one of those "powers" books. It was unique, haunting, unexpected, fast-paced, and mysterious. I'm teetering between a 4 or 5 star rating and I think I'm going to give it a 5. Because the only problem I personally had with it is minuscule when I think of the amazing plot, characters, setting, photographs, and writing.
One last note: Miss Peregrine is a cool lady, let me tell you. I hope we see much more of her in the sequel, Hollow City. ♦
---
Have you read Miss Peregrine's Home for Peculiar Children?
If you haven't, would you be interested to?
Comment below letting me know!
Follow me @ toweroftomes on Twitter | Instagram | Goodreads | and Bloglovin'!