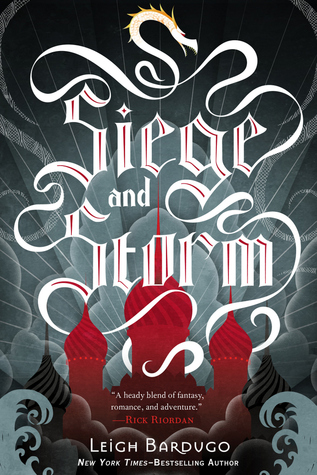 Seige and Storm by Leigh Bardugo. The Grisha Trilogy, #2.
My copy: Henry Holt and Company, 2013. Hardcover, 432 pages.
Source: Library.
Read my review of Shadow and Bone, book #1, here.
Synopsis:
Darkness never dies.
Hunted across the True Sea, haunted by the lives she took on the Fold, Alina must try to make a life with Mal in an unfamiliar land. She finds starting new is not easy while keeping her identity as the Sun Summoner a secret. She can't outrun her past or her destiny for long.
The Darkling has emerged from the Shadow Fold with a terrifying new power and a dangerous plan that will test the very boundaries of the natural world. With the help of a notorious privateer, Alina returns to the country she abandoned, determined to fight the forces gathering against Ravka. But as her power grows, Alina slips deeper into the Darkling's game of forbidden magic, and farther away from Mal. Somehow, she will have to choose between her country, her power, and the love she always thought would guide her–or risk losing everything to the oncoming storm.
---
Siege and Storm is the sequel to Leigh Bardugo's Shadow and Bone (which I have previously reviewed. You can read my thoughts on the first book in this high fantasy series here). If you have not read Shadow and Bone, I suggest doing so before continuing on with this review. It is always tricky to keep spoilers out of reviews for sequels in a series, and while I'll try my best to stay generic, I do want to discuss parts of the book that may or may not be considered spoilers.
Siege and Storm picks up a short while after Shadow and Bone ends. Our protagonist, Alina, is a Grisha, and one of the most powerful Grisha at that: she's a Sun Summoner. She's on the run from the Darkling, the ruler of the Grisha, and is with her friend, romantic interest, and new partner in crime, Mal. The two of them eventually find themselves aboard the Volkvolny, a ship captained by the charming and cocky Sturmhond. He calls himself a privateer, but he's really a pirate. (I love piartes, hehe.) There is a twist concerning Sturmhond which I did not anticipate and didn't think was the direction author Leigh Bardugo was going to go. This twist resulted in Alina and Mal returning to the country of Ravka–returning to the city of Os Alta–returning the Little Palace where we spent nearly all of Book #1 at. This is where Siege and Storm mirrors it's prequel in a repetitive way. Palace life is not very exciting, even with all the crazy politics and public unrest. I wish the majority of Siege and Storm had taken place aboard the Volkvolny, with the utterly cool Captain Sturmhond, and away from the Little Palace.
Alina undergoes quite a personality change as her Grisha power grows and she takes on a leadership role. Her new hunger for power and control wrecks the few things Alina cares about. Like Mal. Mal I liked, though he and Alina acted stupid and melodramatic about their strained relationship for more than half the book. The Darkling didn't help things, either. He didn't have very much page-time, but he was certainly a presence even when he was not physically there. We've found out very little about him, yet there is this cloak of mystery that surrounds him that makes me want to know more. He's creepy, evil, and dare I say sexy, but understands Alina in a way others cannot. Forget what I said, though, about a possible love triangle concerning Alina and the Darkling in my review of Shadow and Bone–he's been thrown off the chart and replaced by a new character. Can I just say how I hate it when female protagonists have to have romantic feelings for every single good-looking guy they meet? It would have been lovely to have Alina and this new guy just be great friends instead of having any sort of romance between them. Sigh. Not what I wanted.
A few last notes… (1) Dragon! Well, sea serpent, but if I am not mistaken, the word "dragon" is actually used, so I'm counting it. Dragon! (2) Now I realize what the theme of the gorgeous book covers is. Shadow and Bone: stag. Siege and Storm: sea serpent (aka dragon). And the third book in the series, Ruin and Rising: firebird. Morozova's amplifiers. You'll know what I'm talking about if you've read any of the books. (3) I'm still not sure what I think of the whole "living saint" part of the plot. It was a lot. I don't know if I like how it was executed… (4) Zoya still didn't have anything to do that was plot-related, as far as I could tell. She better save the day in the last book or else I'll be really annoyed. (5) Map! By Keith Thompson! So beautiful! I love maps of fantasy worlds!
In conclusion, Siege and Storm was not what I expected. It is darker than its predecessor and has a lot more tension and higher stakes. It is fast-paced and engaging, even if three-quarters of the story take place again at the palace. (Honestly, why couldn't we have just been with Sturmhond and his pirates and his ship the whole time? Why?) While I am definitely going to read the third and final book in the trilogy, I did not love Siege and Storm so much that I feel the need to immediately jump back into Alina's world. Still, I did really enjoy it and definitely recommend the series to those who enjoy good fantasy stories. ♦
---
Have you read Siege and Storm?
If you haven't, would you be interested to?
Comment below letting me know!
Follow me @ toweroftomes on Twitter | Instagram | Goodreads | and Bloglovin'!